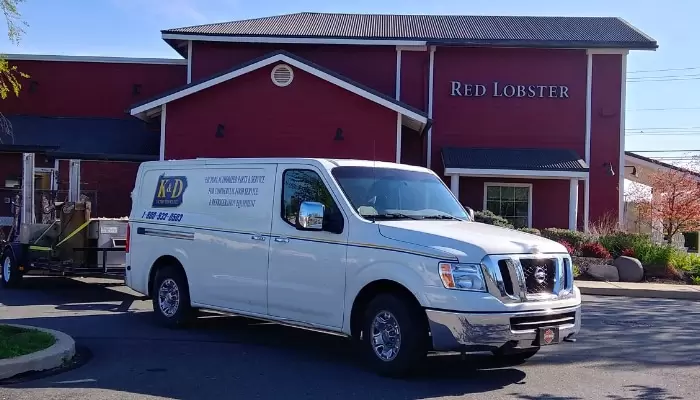 Find the Best Commercial Cooking Equipment Services For Your Kitchen
Looking for commercial cooking equipment services for your commercial kitchen? Find out why kitchens have been trusting K&D Factory Service since 1945. Few companies can claim our level of expertise and knowledge when it comes to kitchen and restaurant supplies.
Because we've worked with the best manufacturers out there, we know the best commercial cooking equipment to outfit your establishment. Whether you're looking for fryers or kitchen freezers, we can point you in the direction of value and high performance. Plus, we offer unbeatable refrigeration equipment service in addition to its manufacturer warranty.
Where does K&D Factory Service provide service?
We service the greater Pennsylvania area stretching from the northern part of the state near Scranton to the greater Philadelphia area to the south. We also service as far west as Pittsburg. 
We have branches in Allentown, Altoona, Harrisburg, Lancaster, Scranton, Williamsport, and York. 
K&D Factory Service Inc. is here to assist you. Please contact us with your questions if you need assistance navigating the numerous manufacturers and parts we carry. It will be our pleasure to assist you.
What causes a commercial gas oven to stop working?
The four most common causes of commercial oven failure are as follows:
Faulty pilot lights: A pilot light that is not directly in contact with a flame cannot generate enough heat to keep the safety valve open. As a result, the pilot will not stay lit. You will almost certainly need to replace it.
The oven will not reach the desired temperature: All thermostats are factory preset and do not normally require calibration. If your oven does not reach the temperature you have set, the thermostat is either out of calibration, broken or faulty.
Overheating oven: If your oven overheats, it may be due to a thermostat calibration issue. By replacing the thermostat, you will be able to heat your oven to the proper temperature.
Uneven cooking: This is a common issue following the installation of a new thermostat. A heat-sensing bulb that is not properly positioned cannot accurately detect the temperature. Making sure the bulb is in the right place should solve the problem.
K&D Factory Service Inc. is here to help. Contact us with your questions about commercial oven issues today!
Why would someone choose K&D Factory Service for commercial kitchen equipment service?
K&D Factory Service Inc. provides a wide range of services for your commercial cooking equipment. All of our technicians are factory-trained and certified to repair any type of commercial cooking equipment. 
Not only can K&D repair all types of cooking equipment, but we also have a full department of trained refrigeration and HVAC technicians to take care of your problems before they affect your business. Our technicians have experience with all manufacturers and types of refrigeration equipment, so you will be in good hands with K&D.
K&D has a fully trained parts department to assist you in identifying and obtaining the correct part. K&D can get the parts you need quickly and efficiently with parts specialists in each of our seven branches and an inventory stock of over $1,000,000. If we do not have a part in stock, K&D Factory Service Inc. can order the part you require directly from the manufacturer and have it shipped directly to you or picked up at any of our local branches.
K&D Factory Service Inc. is here to assist you. Get in touch with us right away if you have any problems with your commercial kitchen and refrigeration equipment.
The same is true of our service. Our technicians are manufacturer certified to provide the best preventative maintenance and planned maintenance services available. You and your equipment are in the best, most skillful hands.
When your K&D Equipment needs repair, we're right around the corner ready to fix your cooking, refrigeration or HVAC equipment.
Call us 717-236-9039 today or contact us to learn more about the commercial kitchen equipment we have available. Our parts specialists will help to locate exactly what you are looking for. If it's not already in our stock we'll order it today and have it sent to you or to any one of our seven branch locations for pick-up.
WE SERVICE THE FOLLOWING EQUIPMENT, AND MORE!
Blast Chillers
Blast Freezers
Beer Coolers
Booster Heaters
Charbroilers
Coffee Machines
Combi-Ovens
Convection Ovens
Dish Washers
Display Cases
Disposals
Dough Presses
Espresso Machines
Exhaust Fans
Exhaust Hoods
Freezers
Fryers
Food Prep
Food Warmers
Fountain Machines
Frozen Beverage Machines
Griddles
Grills
Heat Lamps
Heated Wells
Hot Water Dispensers
Ice Makers
Juice Dispensers
Keg Coolers
Kettles
Microwaves
Pizza Ovens
Pressure Fryers
Proofers
Ranges
Reach-In Freezers
Reach-In Refrigerators
Rethermalizers
Salamanders
Steamers and Steam Tables
Smokers
Soup Dispensers
Tap and Beverage Systems
Tea Brewers
Tilt Skillets
Toasters
Toaster Ovens
Walk-In Coolers
Walk-In Freezers
Water Filtration Systems
Warewashing
Warmers