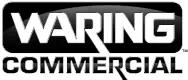 Find Replacement OEM Waring Parts for Your Kitchen Equipment
The chefs at your restaurant cook each dish to perfection. They aim to please each customer's palate and their own high standards, so they need reliable equipment. To keep your chefs and your patrons happy, you buy durable appliances from top manufacturers like Waring.
But despite your best efforts, you sometimes experience malfunctioning kitchen equipment. When that happens, you need replacement parts fast. Without them, your kitchen cannot operate at maximum efficiency.
Fortunately, K&D Factory Service stocks a large inventory of Waring parts so we have them available when you need them most.
Get Replacement Parts for Waring Appliances
If your Waring Pro kitchen equipment breaks down, you don't have to buy a new appliance. The parts department at K&D knows how to identify the part you need. Then they find it and ship it to wherever you are nationwide.
Our inventory includes Waring parts for their entire Pro line, including:
Blenders
Convection ovens
Espresso makers
Fryers
Food slicers
Juicers
Meat grinders
Popcorn makers
Stovetop burners
If you don't see your Waring Pro appliance listed here, give us a call anyway. We have thousands of parts in stock, so we almost always have the part you need. If we don't, we know where to find it and how to get it to you as quickly as possible.