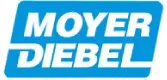 As part of the Ali Group of Foodservice Equipment Companies, Moyer Diebel have been manufacturing commercial glasswashing and dishwashing equipment for over 50 years. All Moyer Diebel products and replacement parts are available through K&D Factory Services.
Glasswashers- low temp, high temp, and booster heaters
Rack Conveyors Dishwashing Machines
Undercounters Dishwashing Machines
Door/Hood Types Dishwashing Machines
Call K&D Factory Service to learn more about our installation and repair services.