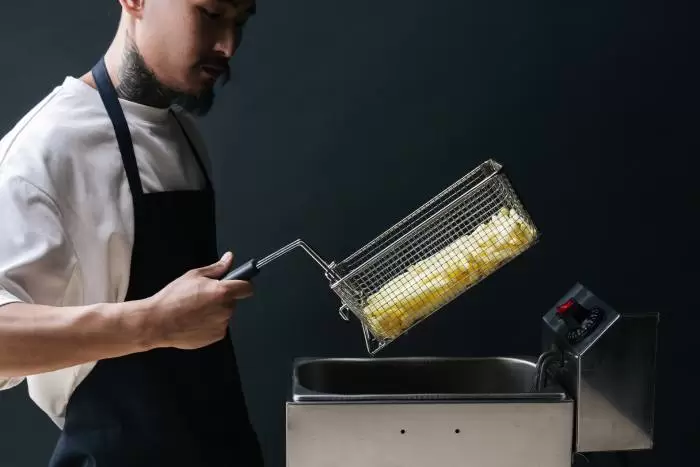 Get More Functionality and Fewer Problems From Your Deep Fryer With Regular Maintenance
Everyone loves french fries. Call them pommes frites, potato wedges, shoestring potatoes, or a litany of other names, but chances are your restaurant serves a variety of this American staple, and many more deep-fried dishes as well!
Unfortunately, deep fryers are notoriously finicky. From temperature calibration issues to bent baskets, any little problem can make it much more difficult for your hard-working employees to consistently produce the fried dishes your customers crave.
The good news is that with a little elbow grease and TLC, your deep fryer can work much more reliably and you can save lots of time and money on repairs and ruined orders. Read on for expert tips you can use to train your staff and make your deep fryer a smooth part of your machine rather than a source of frustration for your team.
Keep Oil Clean
Oil contamination can lead to unpleasant odors and affect the quality of fried food. Daily maintenance is crucial to prevent this issue. After each day of use, the oil should be emptied and the oil reservoir cleaned thoroughly using a degreaser or a cleaning solution suitable for fryers.
Use a skimmer or fine-mesh strainer to remove food particles and debris from the oil. Additionally, consider using an oil filtration system with filter paper or filtration medium every 1-2 days to remove impurities. It's essential to replace the oil at least once a week with fresh oil to maintain freshness and food quality.
Prevent Clogs and Blockages
Clogs and blockages in the fryer can lead to uneven cooking and oil flow issues. Daily cleaning is required to prevent this problem. Use a skimmer or fine-mesh strainer to remove food particles and debris from the oil every day.
Additionally, clear drains and ensure that oil drains and plumbing are clear from clogs and blockages every week using a drain cleaner or a suitable cleaning solution.
Clean Heating Elements
Problems with burners or heating elements can result in temperature inconsistencies. Weekly maintenance checks are recommended. Regularly inspect the burners or heating elements for proper function and cleanliness. Cleaning them using a soft brush or a cloth as needed ensures even cooking and efficient operation.
Calibrate Thermostats
Malfunctioning thermostats can lead to oil temperature issues. A thermostat inspection should be conducted every two weeks. Test the thermostat with an external thermometer every two weeks and recalibrate or replace it as necessary to ensure precise temperature control.
Safety Concerns
Safety issues can arise from loose electrical connections or gas leaks. Weekly safety checks are crucial. Inspect gas fryers for gas leaks, loose connections, and pilot light issues weekly. Moreover, inspect power cords for signs of wear or damage weekly, and replace damaged cords promptly to prevent electrical hazards. If you notice anything unusual about the electrical or gas lines, call K&D immediately. These types of issues need to be dealt with by a professional to ensure everyone's health and safety.
Fryer Basket Problems
Damaged or bent fryer baskets can affect cooking quality. Daily cleaning and regular inspections are needed. Remove and clean fryer baskets daily using a degreaser or a suitable cleaning solution. Regularly inspect fryer baskets for signs of damage, such as bent wires, and replace them as needed to ensure they are in good condition.
Interior Cleaning
As dirty interiors can lead to oil contamination and uneven cooking, weekly interior cleaning is recommended. Wipe down the interior of the fryer with a warm, soapy cloth or sponge weekly. Use a degreaser or a suitable cleaning solution.
Pay attention to hard-to-reach areas and seams where residue can accumulate. Additionally, periodically disassemble components like heating elements and clean them separately to ensure thorough maintenance.
Exterior Maintenance
Dirty exteriors can impact kitchen hygiene. Weekly exterior maintenance is essential. Wipe down the exterior surfaces, controls, and knobs weekly using a damp cloth or sponge and a suitable cleaning solution. Inspect power cords for signs of wear or damage weekly, and replace them as needed to prevent electrical hazards.
Schedule Deep Cleaning
Neglecting deep cleaning can lead to long-term maintenance issues. Monthly deep cleaning is necessary. Perform a deep cleaning, including disassembling components and cleaning them thoroughly, at least once a month using a degreaser or a suitable cleaning solution to remove accumulated grime and grease.
Partner With The Pros at K&D Factory Service
When deep fryer maintenance and repair issues do inevitably arise that can't be handled in-house, make sure you call K&D and we'll get it handled quickly and thoroughly. As New England's trusted and recommended commercial kitchen equipment experts, you can count on us to get the job done right the first time and get your fryer promptly back in action. Give us a call today at 717-236-9039 to schedule service!